How to create your own custom printable crossword puzzles…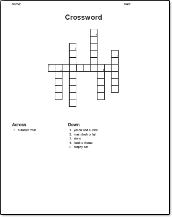 Give your crossword puzzle a name.
Then, make a word list with an answer and a clue on each line. For example, "superman: man of steel".
Press "Make My Crossword Puzzle!" to generate a crossword puzzle using as many of the clues as possible.
Print the crossword and optionally the answer key on page two.
Make Your Crossword Puzzle
Example:
banana: yellow and curved
apple: macintosh or fuji
kiwi: land of koalas
pineapple: aloha
orange: hard to rhyme
cherry: on top
lemon: crappy car
blueberry: popular muffin variety
watermelon: summer treat